Featured Item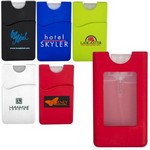 Silicone Wallet Sleeve w/Sanitizer - 0.6...
PP Plastic credit card-sized 0.67 oz. (20 Ml) antibacterial hand sanitizer spray in removable silicone sleeve with pocket for credit cards, transit cards and business cards. Features light citrus scen...
$2.35 - $2.99
We are a Full Service Marketing & Advertising Firm


We specialize in Public Relations Logo and Graphic Design, Event Planning and marketing consultation.

This site will highlight the promotional product division or our firm. We offer a wide range of promotional items to promote your company. Be sure to check out Geoff Langdon on Linkedin and Facebook!

We help you find a cost effective way to market and promote your business with custom promotional items that speak to your customers and clients.

With the number of companies we work with the possibilities are only limited by your imagination.